Welcome to the CMR Client Developer Forum.  This is meant to be a collaborative environment where client developers, users, and CMR maintainers can ask questions, make suggestions, and discuss topics like future CMR capabilities. Feel free to start adding new topics.
Section
Column
Panel
borderColor

#ccc

titleBGColor

#F7D6C1

borderStyle

dashed

gray

height
300px
Forum
Forum - Topic Status Column
| | |
| --- | --- |
| activityIndicatorThreshold | 50 |
Forum - Topic Title Column
Forum - Topic Author Column
Forum - Topic Creation Date Column
Forum - Topic Number Of Replies Column
Forum - Topic Activity Score Column
Forum - Topic Last Activity Date Column
Column
CMR Roadmap
The following chart provides a rough status on the progress and plans of the CMR development team.  Items on the right are not in priority order, but represent the list of topics being considered.  Feel free to comment in the forum if you have your favorite topic that you'd like to see us work next.  We hope to add voting to this page soon!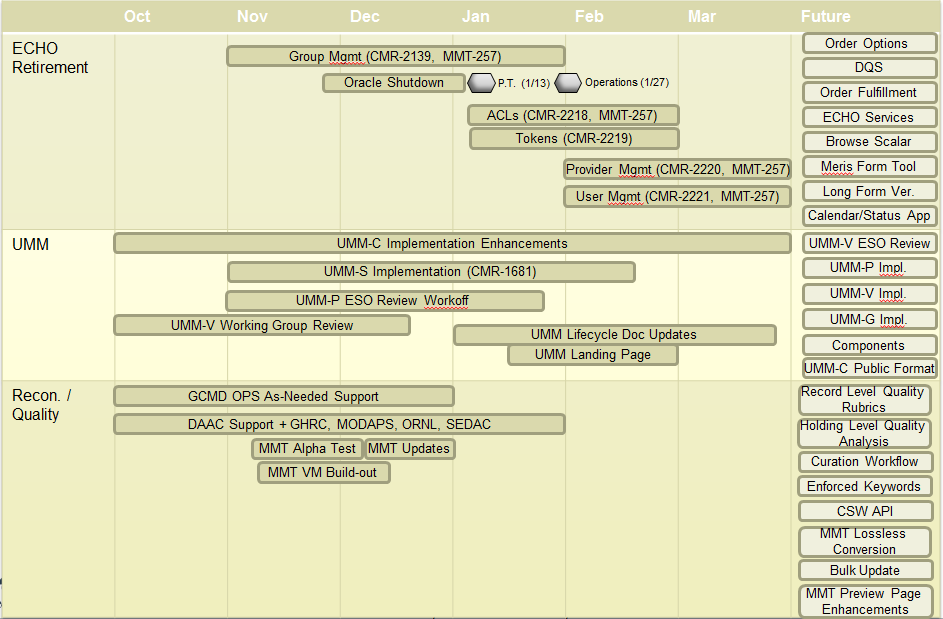 Image Removed
Image Removed
Column
Panel
| | |
| --- | --- |
| borderColor | #ccc |
| bgColor | #C3D9FF |
| titleBGColor | #F7D6C1 |
| borderStyle | dashed |
| title | |
| height | 300px |
Quick Links
Release Notes
Coming Soon
Section