Versions Compared
Key
This line was added.

This line was removed.

Formatting was changed.
The FIRMS team has introduced several new features and capabilities to both FIRMS Global and FIRMS US/Canada.  We'll continue to highlight these new additions over several future posts.
In this post, we would like to highlight the Time Since Detection classification for MODIS and VIIRS active fire detection data that is available in the fire map for FIRMS Global and FIRMS US/Canada.  This classification symbolizes active fires based on their time of detection relative to the current time.  This enables users to visualize recent fire progression and currently active fire fronts for wildland fires.  The temporal classification displays active fire detections occurring in the past 0 to 6 hours (deep red), detections occurring 6 to 12 hours earlier (red) and 12 to 24 hours earlier (orange), and detections occurring previous to the last 24 hour period (yellow).
Setting the Time Since Detection Classification in FIRMS

Open the fire map viewer for FIRMS Global or FIRMS US/Canada
Select the Time Since Detection choice from the pick list associated for a particular satellite/sensor source in the FIRMS display control window to apply this classification to the active fire detection data for that source layer
To apply it for all the MODIS and VIIRS active fire detection layers, click the Time Based button at the top of in the FIRMS display control window
Examples of active fire data displayed with the time since detection classification: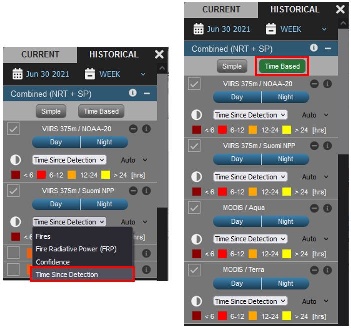 Examples for setting the time since detection classification in FIRMS
SNPP and NOAA-20 VIIRS active fire detection locations in Northern California symbolized by their time since detection at ~17:00 PDT June 30, 2021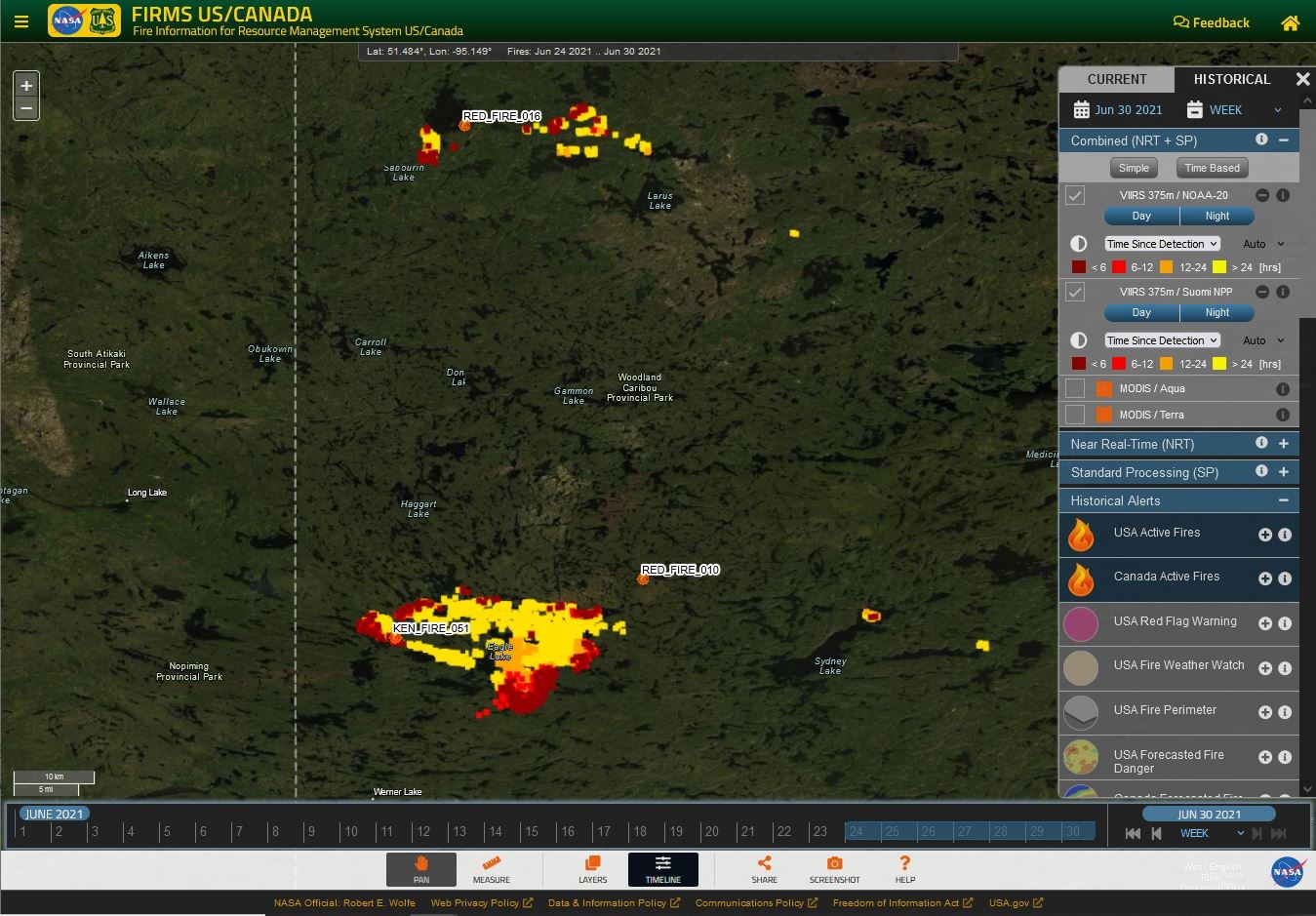 SNPP and NOAA-20 VIIRS active fire detection locations in Western Ontario symbolized by their time since detection at ~19:00 CDT June 30, 2021